Everything You Need to Know to Monitor Your Campaigns.


Viewing campaign data is very important for knowing what's working and what isn't. You can see this data by clicking on "Campaigns".
Since this dashboard is so important, let's go over a few things you can see and do from this screen.
Select your Sort and Filter
1. Date range
If your sparkly new campaign isn't showing on your report, you likely aren't viewing today's data. Click on the date in the upper right hand corner to choose which date range you want to see data for. Don't forget to click Apply after making your selection. Keep in mind that "Last 7/30 days" does not include today's data. . If "Today's numbers" are 0, it's because the timezone of your connected traffic sources is a day behind. Some Traffic sources, like Taboola, allow you to change this. Brax updates its data hourly.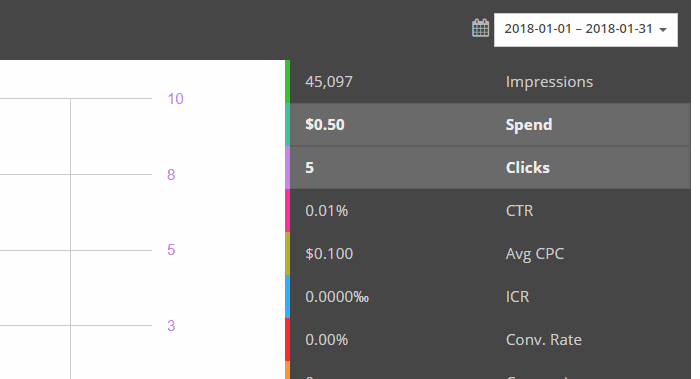 Selecting the right date range is important. Another important feature I want to talk about is...
2. Columns
Ah Columns, the backbone of your data. Every campaign in Brax has a row, and that row has many columns. These include identifiers, quick tools, and your KPIs. You can order your columns to your liking by dragging around the column headers.

Select which columns you want to see, by clicking "+ Columns" on the filter taskbar. If you track conversions by Voluum, make sure you select metrics under the "Voluum" option.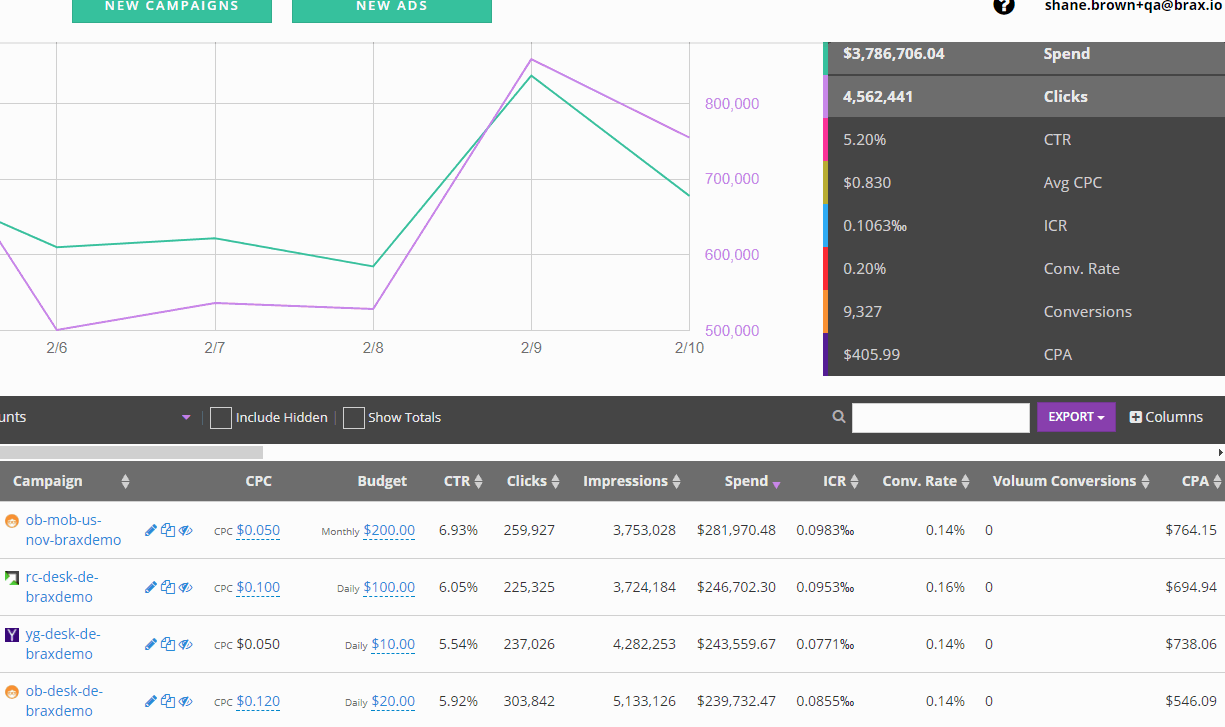 Sort your data by clicking any of the arrows next to a column header. To return to the default, sort by spend or refresh your screen.

3.Filter taskbar
Since we covered adding columns, you can also use this taskbar to filter in many other ways. Keep in mind that filters apply from right to left. For example, I can view active campaigns on Yahoo in my Brax Software Inc account. Any other results will be filtered out, even from search.
If you've hidden a campaign, you can select "Include Hidden" to make it visible temporarily. If you have spend you can't identify, it might be from a hidden campaign.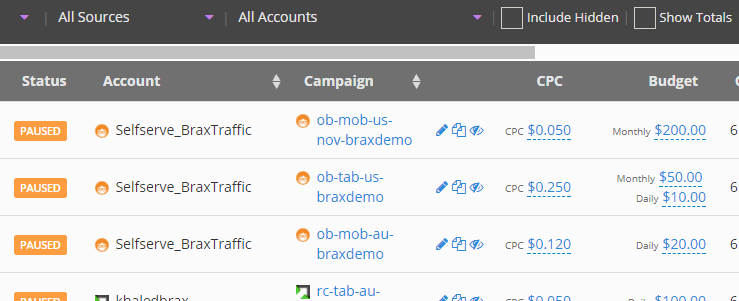 You can also select "Show Totals", which can be useful for keeping an eye on your overall numbers.

4. Status
Normally, Brax shows campaigns that are Active, Budget Limited, Paused, Pending, or Unknown . Click "Status" if you'd like to see campaigns that have been rejected, deleted, stopped, or ended. An Unknown status is temporary and will usually change to deleted within a few minutes.
Take some action
1. Activate and Pause Campaigns
Click ❚❚ or ► to start or stop an existing campaign. You can also click the check boxes to the left of the pause/play buttons to select many campaigns at once.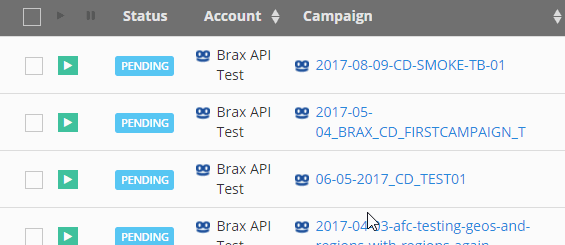 2. Edit Budgets & CPCs
Editing CPCs and budgets is as easy as clicking a campaign's current value. Once you've made your changes, submit them by clicking the checkmark. To prevent mistakes, large increases in CPC will bring up a warning.

3. Go in-depth with the Campaign Manager
For more options, click the name of any campaign to bring up the Campaign Manager. From here, you can do things such as see it's day to day performance, manage it's ads, block publishers, and more.
4.Duplicate
Duplicating a campaign is a great way to increase productivity. You can read more on duplicating a campaign [Here]
5.Hide
It's a good process to hide campaigns you're no longer using to keep a clean daily report. Keep in mind that hiding an active campaign will not pause it.
6. Export your data to CSV
Click on the Export button and select either Campaigns Summary or Campaigns by Day. You'll get an Excel file with all your campaign data.
If you're ready to optimize and jump in to the numbers, head on over to our blog to learn what we have spent millions of dollars to find out.