Brax has two main menus. Let's take a look at the first one, on your left. If you want to know what Brax is about, this is a great place to start!
Tools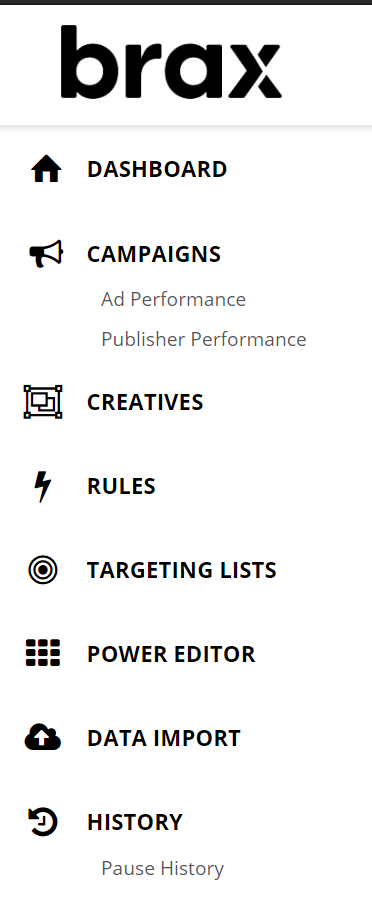 This menu has everything you need to run your business day-to-day . Let's go through it together.
Campaigns: This is probably Brax's most important page. It lets you view and take actions on all your campaigns. You can search, pause, edit, duplicate, or edit cpc & budgets here.
Ad Performance: This page is similar to campaigns, but for ads.
Publisher Performance: Here you can view publisher performance by campaign.
Creatives: Manage the ad groups you've made in Brax. You can add, edit, or delete future ads from here.
Rules: Create rules to search based on elements of your strategy and take action across all or some of your campaigns.
Targeting Lists: Create and manage lists to help you apply blocklists to new and existing campaigns.
Power Editor: Make create or update large amounts of campaigns at once.
Data Import: Import data from any source to use in custom metrics.
History: View Ad/pause History.
*You can also hide this menu by clicking the

Icon. Great for having multiple windows up!
Settings
There are lots of exciting things to try out in Brax. But before we hop into that, why don't we take a moment to set up your account? Click your email address to find our next menu.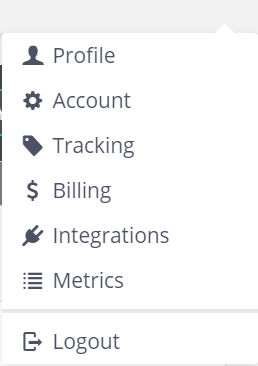 Profile Settings: This is for your specific profile. It lets you change your name, reset your password, and manage account connections and alerts.
Account Settings: These settings are for your account as a whole and impact all users. Manage time zones, Date format, currency icon, and users from this menu.
Tracking: Here is where you set your tracking codes. These will be applied to all future campaigns.
Billing: Here
Integrations: You can manage and connect your network accounts to Brax here.
Metrics: Manage various metrics settings
Brax can be a complex and powerful tool. If you have any questions on where to start, please ask us! You can either email Love@brax.io or click the
button anytime.