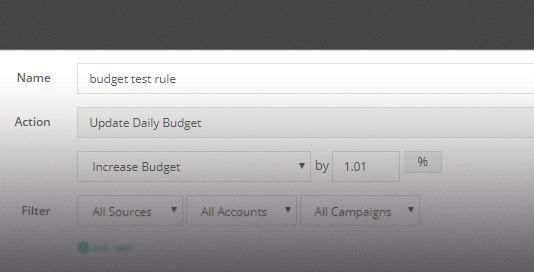 New rule: Budget!
You can now use rules to adjust budgets. Use any metrics, like ROI, campaign name, or even one of your calculated metrics.
Publisher UI: Percentage adjustments now show the new bid

Percentage adjustments now show you what the bid will be afterwards. We also added arrows to quickly adjust 10% at a time.
Rules: "name does not include" now available
Fun fact: Did you know rules can use "campaign name includes" to select a group of campaigns? This feature has been useful to many users. We added "does not include" so you can have even more options.
Power Editor: Improved load times
We've been working on improvements to the power editor to make it run faster and smoother. We now cache the template file to reduce failure rate caused by timeouts.

Outbrain: OS targeting
You can now target OS through outbrain. Make sure you first select desktop, mobile, or tablet.
Revcontent: Budget pacing
Control the speed of your spend with budget pacing. Simply enable or disable it from the /edit or /create screens.
Revcontent: Removed Vcpm
Revcontent no longer offers this as a new campaign type, so we're just cleaning up here.
Plus various other small bugs and optimizations we won't bore you with. =)