https://console.brax.io/schedules
Everyone has rules. And rules that enforce themselves? Even better! At the heart of Brax's automated rules are schedules. Once you attach your rules to a schedule, you have complete control over how often they run. You can attach as many rules to a schedule as you'd like. This means you can take multiple actions every time the schedule triggers. Block bad placements and raise bids on good ones? No problem.
You can also have a rule attached to many different schedules at the same time. Maybe you want to stop low performers any time your rules make a change? The control is yours on how your campaigns behave.

You can tell if a rule is on a schedule by looking for a small clock icon

next to the rule's name. If you click into that rule, you can see which schedules are attached.

You can create and manage schedules by clicking Schedules in the left sidebar. You can also create a schedule while you create or edit a rule. You can even attach that new schedule to existing rules!

Let's take a look at that schedules page. If you click on a schedule in the calendar, you can see which rules it's attached to. Note: Your accounts timezone are what all your schedules run on.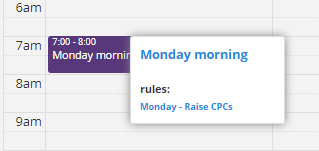 You can tell if a schedule has run your rule successfully from Rule History. Keep in mind, if a rule finds nothing to change, it won't add a new entry into the history! If your rule history is missing, or not there, this is probably why.


Automated rules are like having an employee who gets it right every time so you gain control over your schedule. Set your strategy now, and let us take care of everything else. Of course, we're always here if you have questions. Email Love@Brax.io
Happy Scheduling!